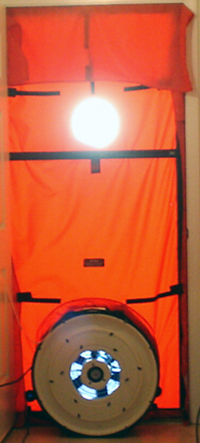 SkyeTec provides Whole Building Air Barrier Testing for residential, military, and commercial properties to ensure that the building envelope is functioning properly based on its design and installation. We use multiple methods including ASTM Standards, ISO Test Methods and the U.S. Army Corps of Engineers Air Leakage Testing Protocol according to the design specifications. These air barrier testing methods include:
ASTM E779 Standard Test Method for Determining Air Leakage Rate by Fan Pressurization
ASTM E1186 Air Leakage Site Detection in Building Envelopes and Air Barrier Systems
ASTM E1827 Standard Test Methods for Determining Air tightness of Buildings Using an Orifice Blower Door
ASTM C1060 Standard Practice for Thermographic Inspection of Insulation Installations in Envelope Cavities of Frame Buildings
ISO 6781 Thermal Insulation-Qualitative detection of thermal irregularities in building envelopes-Infrared Method
USACE Air Leakage Testing Protocol
The success of the project starts with a preliminary baseline walk through that pinpoints specific areas of concern during construction that may cause the final test to Fail. The analyst uses his knowledge and expertise in identifying areas where air can escape or infiltrate the building through obvious penetrations as well as those that may go unnoticed or concealed. Through documentation of the substrate conditions and reporting back to the contractor, many of these issues can be resolved by the trades in a timely and cost-effective manner before cover-up.
During the Final Test, Infrared Thermography may be used to detect anomalies in the envelope where air is infiltrating or escaping the building. If pressurization conditions during the test indicate significant air leakage, this method is implemented since some points may be invisible to the eye or digital camera and may only be detected through Thermography.
SkyeTec's air barrier testing expertise, building construction knowledge, and vast experience using this equipment and testing methods has produced successful results on numerous projects. We welcome the opportunity to partner with you on your next project, please contact us by phone at 1.866.SKYETEC (1.866.759.3832) or email us for more information on our Air Barrier Testing services.