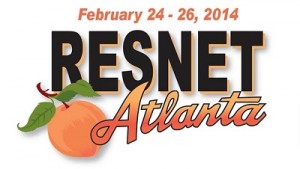 A group of us traveled to Atlanta last week for the 2014 RESNET Building Performance Conference.  We participate in this conference every year and it's become a big first quarter event for us.  This year we had a booth, sponsored the registration lanyards, and gave a presentation on The Importance of Indoor Air Quality When Building Energy Efficient Homes.  It was great to see SkyeTec represented all over the conference on the lanyards and it really helped propel the question "who is SkyeTec?".
The RESNET conference is a wonderful way for us to meet with fellow energy raters,  representatives from various U.S. power companies, builders, and other industry professionals.  The networking opportunities at our booth and evening receptions combined with attending various sessions, provided a valuable inside look at what is going on in the energy efficiency industry and where it's headed in the future.
The RESNET Conference heads to California next year and we are already looking forward to it!